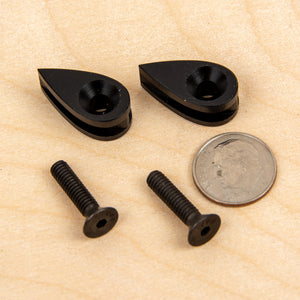 Airfoil Rail Button (pair, 2 sizes)
AIRFOIL - SHAPED RAIL BUTTONS FOR 1010 AND 1515 RAILS!
Not just another round button..... these are precision CNC machined from black Delrin to a true NACA airfoil shape. Strong and durable, approved for all rail launches! Our rail buttons won't damage the 1010 and 1515 rail during the launch.

Our unique shape allows for easier mounting on the rail and improved aerodynamics during the launch. We countersink the face allowing a clean transition for the screw head.
Super low profile design: 0.320" (1.0" Series) and 0.460" (1.5" Series).

...and best of all they look really COOL!
(Dime not included)