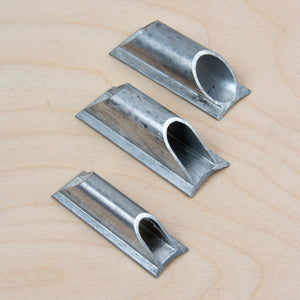 GLR Acme Conformal Launch Lugs™(pair, 5 sizes)
GLR Acme brings launch lug design into the 21st century with its extensive line of Conformal Launch Lugs™. GLR Acme Conformal Launch Lugs™ are designed and precision extruded and feature an integral, rounded base that fits your airframe tube precisely. The close fit of the conformal base maximizes the shear strength inherent in adhesive bonds, and the 6061-T6 extruded aluminum construction guarantees structural integrity.
Launch rods are a fantastic launch mechanism for smaller high-power rockets.
The Problem: Frankly, it can be a pain to attach those little tubes or lugs onto your rocket. Just screwing them into the airframe tube won't work. You usually have to contrive some backing plate or try to screw into a centering – and that can be a very thin target to hit!
Problem Solved! Now attaching launch lugs is a snap with GLR's new Acme Conformal Launch Lug™. They simply epoxy onto the tube. That's it, just like the GLR Acme Conformal Rail Guides™. Also, these conformal launch lugs™ have less frontal area than standard buttons, and that means less drag for your rocket.
 GLR Acme Launch Lugs™ were designed specifically for GLR by NASA Engineer Mark Rowley!
GLR Acme Launch Lugs™ are 6061-T6 aircraft aluminum; no flimsy urethane foam to wear out.
The base of GLR Acme Launch Lugs™ has a conformal radius that matches exactly to the airframe tube. Other brands do NOT.
GLR Acme Launch Lugs™ are very low cost.
GLR Acme Launch Lugs™ do not require screws. Screws require backing inside the rocket, which can hang up cords and chutes or damage internal parts.
Compatible with Extreme rail, sold below.
Click here for detailed specifications