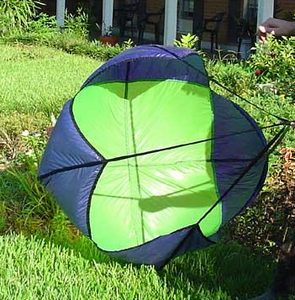 TAC-9 Certification Parachute (black/orange, 3 sizes)
The Gold Standard!
Certification - 3 Parachute

The TAC-9 is pure quality. The sewing around the bridle is almost 1/2 a foot long! Would you trust your big project to anything else? ....and what a great price!
7,000 Pound-Test Swivel!! (It's over 3" long and 2" wide!!!)

Quarter - Spherical design from dragster technology

Teat Resistant - All seams reinforced with nylon webbing

Strong - nylon all around the canopy

Tough - Extra strength 1.9oz coated, low porosity ripstop nylon

No Tangle Design - Only four extra-strength suspension lines

D-Ring at the top - For attaching a drogue or other component.