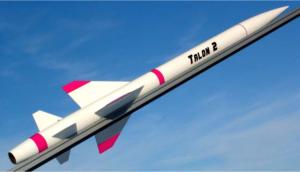 Talon 2 Fiberglass
Talon 2 Rocket Kit
By Kent Burnett, the Original designer of the Talon series!!

The Talon 2 is the affordable, easy-to-fly version in this beautiful series. It's a stunning rocket that commands attention. The Talons have been rightfully called the Sexiest Kits Alive. This dazzling beauty will make heads spin!

This a high-end kit at a very low price. At Giant Leap, we don't scrimp on quality. Now think back, did your last kit have these features?
Features:
About 4 feet long!

6 fins are .062 high-temp G-10

Features a plastic nosecone and boat-tail that is pre-slotted for fins

Slimline Classic Motor Retainer

Acme Hardpoint shock cord anchor

Kevlar™ shock cord

Kevlar™ chute protector

Acme rail guides

Preslotted fiberglass airframe

30" chute + swivel

All hardware is included (Eyebolts, washers, lock nut, etc.)

Detailed instructions
Specifications:
Diameter: 2.1"

Length: 48"

Weight: 30 oz

MMT: 29 mm
Recommended 29mm motors:
Aerotech:
Single use: F50-4; G80-4,
RMS: F40-4, F52-5T, G64-4, H128, H238, H165, H210, H180, H220, H268, I200
  *  ** © The "Talon 2" and "Fin"-ders and "Frackets" are copyrights of Giant Leap Rocketry, Inc. All rights reserved. 2018. Any reproduction or redistribution of part or all of the contents in any form is prohibited. You may not, except with our express written permission, distribute or commercially exploit the content. Nor may you transmit it or store it in any other website or other form of electronic retrieval system.