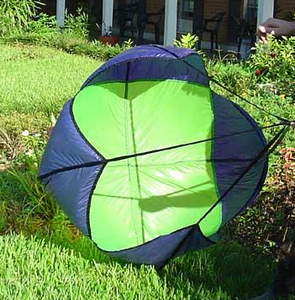 TAC-1 Parachute (black/orange, 6 sizes)
Toughest chute in high power!
Giant Leap has secured the exclusive rights to market this chute.
We've looked.....we can't find a higher quality chute than the TAC-1.

The TAC-1 -a stronger chute for less money.

The Toughest Drogue in high power!
TAC-1: gorgeous, high visibility color....black and orange.
Tear-resistant - All (and we mean all) seams are reinforced with nylon webbing.

Strong - 1/2" mil spec nylon (700 lbs test) all around the canopy.

Lightweight - 1.1 oz silicone-coated low-porosity ripstop nylon.

No Tangle Design - only four suspension lines! 1500# test swivel for tangle-free descents.

All the seams (every-last-one) is strength-reinforced with nylon webbing. It doesn't get any stronger.

Every seam, every fold, every line, is made with the high-end flyer in mind. Did we mention it's low price?

The TAC-1 has the strongest barrel swivel available #1500 test from the 24" chute to the 84".