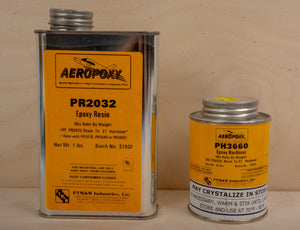 Aeropoxy Laminating Resin Kits (3 sizes)
Aeropoxy: High Grade Epoxy Line
Aeropoxy is a VERY high quality line of epoxy for the most demanding applications. This is the real McCoy. When you want it done right, do it with Aeropoxy. It's what we use, and it's the best. Unlike the other system you've heard about, Aeropoxy is optimized for aerospace applications. It's the number one product for home-built aircraft, and we find it unsurpassed for high power rocketry. According to tests by John Coker Aeropoxy was five times stronger than typical hobby store epoxies, and was also stronger than West Systems.
We carry three types of Aeropoxy, which are listed below:
Aeropoxy Laminating Resin:
Ideal for laminating tubes. It's medium viscosity and gives excellent wet-out of fiberglass, carbon and aramid fibers. Special additives are incorporated to promote chemical adhesion to fabrics made with these fibers. Aeropoxy cures completely at room temperature, or can be given an elevated temperature cure. It has no MDA, and so it is NOT a carcinogen (unlike other brands). It is tested and endorsed by the Rutan Aircraft Factory, and RAF recommended its use for all homebuilt aircraft applications.
The mix ratio of resin to hardener is 3 to 1 by volume.

Cure time: approx 1 hour at room temperature.

Tensile strength is 45,170 psi (Properties Derived With 10 Ply Laminate, Hand Lay-up, Style 181 Glass Fabric, 55% Resin Content).

Viscosity =900-950 cps
NOTE: Epoxy laminates are far superior to polyester laminates. Epoxy is much stronger, and does not have the noxious, brain-melting odor of polyester. Giant Leap makes its glass nosecones ONLY from Epoxy. Next time you buy a glass laminated tube, or a glass nosecone, be sure it's made with Epoxy and not its inferior cousin, polyester. There's a big difference, and like anything in life, you get what you pay for.