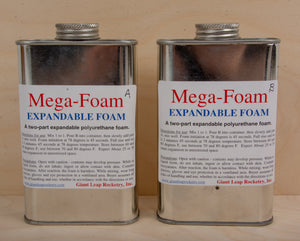 Mega-Foam Kit (nose cone weight & strength)
Mega-Foam a premium foam at a volume discount!
We discovered expandable foam years back from a group of level-2 and -3 flyers in California. It¹s a two-part urethane, closed-cell expandable foam that fills in the fin tab / motor tube area, nosecone, or anything else you can think of. We've used it to reinforce a crimped airframe. Easy to use; Just mix the two-part foam and pour into the cavity. It starts to expand in less than a minute. It¹s high-density structure helps hold fins into place, and provides rigidity to other structures like nosecones, with virtually no cost in weight. The foam does not require oxygen to cure. Special heat-resistant formulations. Expands approximately 20 to 30 times it's size.